Through an agreement with the University of Oklahoma (OU), Nanolight, Inc. offers following services. Such services are of small-scale and of industrial nature. For academic collaborations on research award etc please contact opto-electronic group at University of Oklahoma directly.
Nanolight, Inc. offers epitaxial services using a customer-designed MBE system housed in the Opto-electronic Group's laboratories at OU. This MBE system produces very high-purity epitaxial layers with abrupt interfaces, good control of thickness of layers, doping, and composition.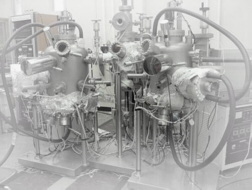 Customer-designed MBE system description:
The system consists of four main chambers: a main growth chamber, a subsidiary growth chamber, a buffer chamber, and a load lock chamber. The load lock is used to bring samples into or take samples out of the vacuum environment. The buffer chamber is used to transfer samples into the growth chamber and outgas the substrates.
Epitaxial services include MBE growth of IV-VI Pb-salt related materials, fluoride materials, and device structures on various substrates.
Nanolight, Inc. also offers BaF2 substrate polishing for BaF2 epi-ready substrates. The orientations include both [111] and [110]. Through an agreement with OU, the services are carried out using equipment housed in the Opto-electronics Laboratory at OU.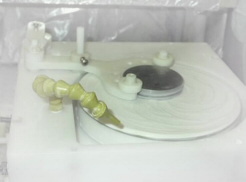 Images of BaF2 substrate before and after polishing are shown below.

Nomarsky image of unpolished substrate surface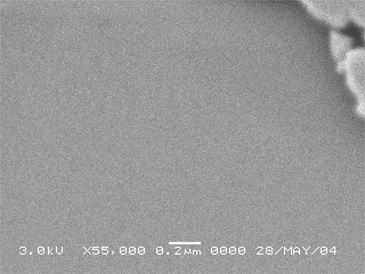 SEM image of the substrate surface after polishing